CAN was founded out of the advocacy of our founding board and members and their experiences of living with a disability is a world that did not properly recognize, respect, or include them. Advocacy is the core of our origin story and continues to be a main focus in our fifteen year history and present.
CAN advocates for better living standards for people with disabilities on provincial disability (as well as others living in poverty), for communities to recognize and better represent their diverse population, for affordable, equitable, and accessible transportation, and to for the empowerment of those who feel their voices are ignored, steamrolled, or pushed to the side.
As an organization that began with a sole focus on people with disabilities and those within their support systems, we strive to improve accessibility, educate about people with disabilities and our needs, and promote the understanding that we will all need accessibility at some point in our lives. Over the years, our advocacy has grown to include people with disabilities as well as people without disabilities (including people with access needs who don't self-identify as having a disability).
CAN is a passionate advocate whose work covers many sectors: organizations, businesses, cities, individuals and government. We also have experience using the media to bring attention to issues.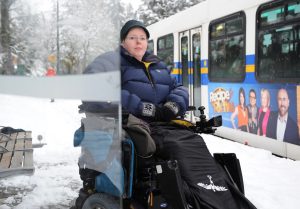 CAN has developed a great reputation for being an advocacy organization and for our approach of seeing the issue from all perspectives and working to come to a mutually beneficial solution.
If you have an issue that needs advocacy assistance, please contact us at 604.437.7331 or info@canbc.org.
We have advocated on behalf of people who have individual access issues with businesses, for people who need letters of support for universal playground funding, to government on behalf of people living in poverty, to transit companies for better accessibility and increased financial accessibility, and to communities for access issues such as curb cuts, wayfinding (signage, directional cues), audible signal at intersection lights, and other important features. If we are unable to aid or support you, we usually have the resources and contacts to help send you in the right direction.

"Heather is a brilliant and dedicated advocate for the inclusion of of people with disabilities. Having worked with her on a number of projects, I'm always amazed at how she balances different perspectives when identifying solutions that will benefit all stakeholders. But what separates Heather from all others is how her passion translates into making a difference in the lives of so many others."
Mike Prescott, PhD(c), MA, MBA, BSc
Photo Credit: Disabled and Here