Citizens for Accessible Neighbourhoods (CAN), a grassroots organization, was founded in 2005 in Maple Ridge-Pitt Meadows. Due to our ongoing decolonialization work, we changed our name in 2020 to Creating Accessible Neighbourhoods.
CAN was founded to address issues with transit accessibility and gatekeeping by drivers (drivers denying access to accessible ramps). When we were able to find a resolution to that issue, we were flooded with accessibility issues from residents in Maple Ridge-Pitt Meadows. As we addressed these issues, we became more well known throughout Metro Vancouver. CAN started presenting to city councils throughout Metro Vancouver and participating in conferences.
Following the first years of growth, CAN continued to increase our reach and enhance our reputation and we started taking on projects throughout the province, including offering feedback to bus companies on Vancouver Island, the Interior, and Metro Vancouver. CAN also worked with Justice Institute on their taxi driver programs and RideHailing driver training. Transportation issues were why we initially founded CAN and remain a priority. Without accessible transportation, people are unable to access school, work, community, social and support systems, and medical professionals.
As CAN interacted with more communities, we realized there was a lack of education about life with a disability. CAN created and delivered workshops and presentations at conferences across the province. We have utilized our members' lived experience to help shape and shift perception of people with disabilities.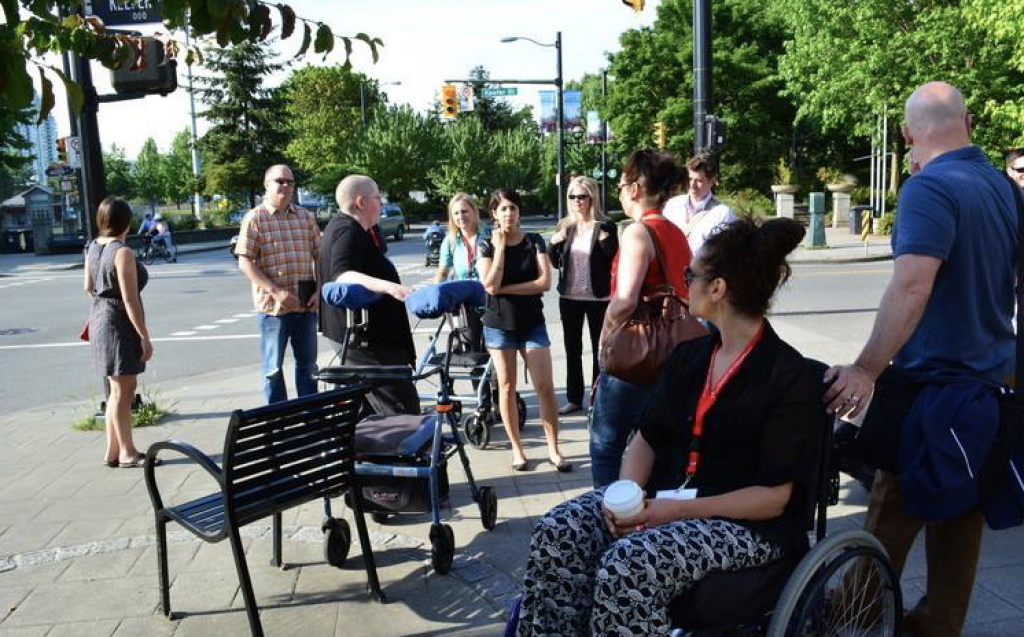 In addition to educating businesses, organizations, and communities about life with a disability, CAN began to advocate on the behalf of individuals, communities, and groups. We started partnering with other organizations to work together to create palpable change through reports, policy, and community building.
CAN's direction has been shaped by need. As we gained members, visited more communities, and spoke with more advocates, we realized where there was a need for our work. For a grassroots organization that started from a single issue, we have grown into an organization with projects throughout the province. As we grew we saw a need to address the multiple identities that people with disabilities live with (gender, sexuality, race, age, geographics, etc.) and how that affects access, equity, and participation. CAN started working with organizations, individuals, and fellow consultants in the 2SLGBTQIA+ (queer) and BIPOC (black, indigenous, person of colour) communities. CAN is committed to educating ourselves as we move into these spaces, utilizing every possible learning opportunity and the many fellow consultants doing amazing work. We truly believe we are better when together.
In 2020, CAN pivoted to online work, including continuing to run Chronically Queer, a support group for 2SLGBTQIA+ folk with chronic health conditions. We participated in organizing Burnaby Pride, CAN's Executive Director acted as Chair for Burnaby Pride. We continued to offer accessibility, diversity, and equity consulting. And, our most used service was private workshops. We taught Breaking Barriers, Disability Justice, Disability Awareness, Gender & Sexuality, and Imposter Syndrome to organizations and universities throughout Turtle Island (North America).
In 2021, CAN opened our four workshops to the public and developed two new workshops: Queer + Trans History BC and Queer + Trans History Canada. We are excited to continue to educate about life with intersecting identities.
In 2022, CAN had our most successful year thanks to lots of workshops and accessibility audits. Check out our wonderful clients. 43% of our revenue was paid to disabled people. 22% was given in grants to organizations that support disabled, BIPOC (Black, Indigenous, people of colour) and/or 2SLGBTQIA+ (two spirit, lesbian, gay, bisexual/pansexual, trans, queer/questioning, intersex, asexual/aromantic/agender, + includes demisexual and polyamory among others).
"Heather is a brilliant and dedicated advocate for the inclusion of of people with disabilities. Having worked with them on a number of projects, I'm always amazed at how they balance different perspectives when identifying solutions that will benefit all stakeholders. But what separates Heather from all others is how their passion translates into making a difference in the lives of so many others."
Mike Prescott, PhD(c), MA, MBA, BSc