Short Bio
Heather McCain (they/them) is founder and Executive Director of Creating Accessible Neighbourhoods (CAN), a non-profit they started in 2005. Heather built CAN from a small grassroots organization in two communities to an organization delivering workshops and adding their voice to projects and events across Turtle Island (colonially known as North America). Heather works on the stolen land of the sḵwx̱wú7mesh (Squamish), xʷməθkʷəy̓əm (Musqueam) and sel̓íl̓witulh (Tsleil-Waututh), in what is colonially called Vancouver.
Heather's own experiences with multiple types of disabilities, neurodivergence, inaccessibility, and ableism led them to become a well-known and respected advocate, educator, facilitator, and speaker who works to create equity, celebrate diversity, and educate about and implement accessibility.
Heather recognizes that those within the disability community have intersecting identities and works hard to ensure a multitude of voices and experiences inform their work and the work of CAN. Heather is committed to centering decolonialization, using an intersectional lens and disability justice framework.
Heather is proudest to be called a Crip Doula. This is a Disability Justice term for someone who helps disabled people navigate our complex systems, provides resources, support, and builds community. Members of Chronically Queer gave this title to Heather. CQ is a support group Heather facilitates for 2SLGBTQIA+ folk with chronic health conditions.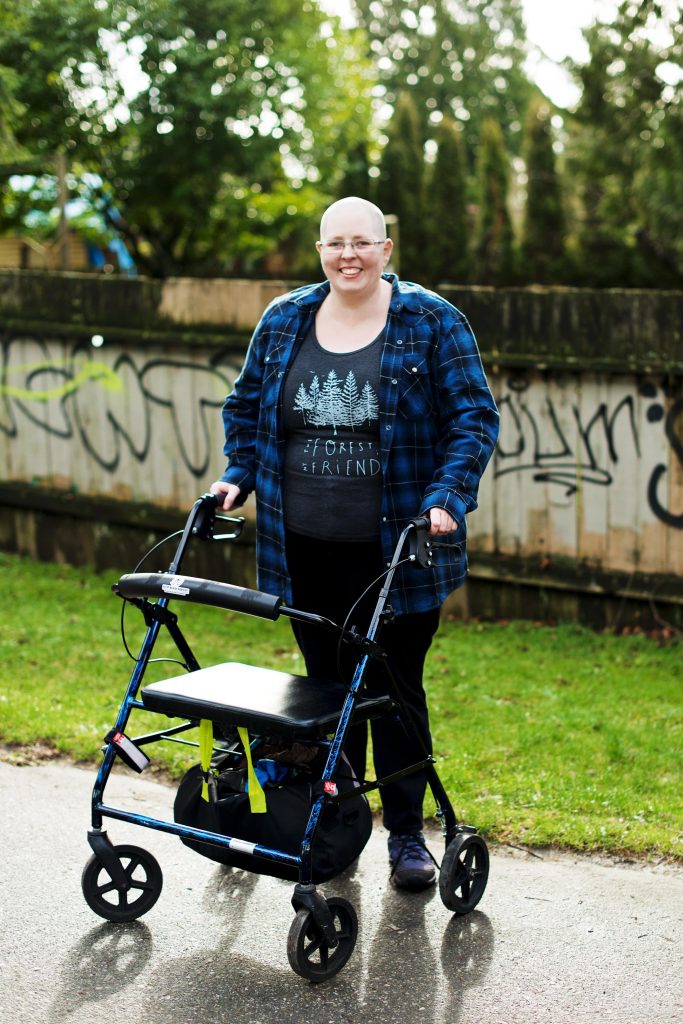 Longer Bio
Chronic Pain and Disability
Heather McCain has experienced multiple types of disabilities in their life, including speech, sensory, mental health, physical, PTSD, and neurodivergence. Heather lives with visible and invisible disabilities, permanent and temporary, and episodic (happening every now and again).
Heather was seventeen when they injured their wrist bowling. Over the next six months the pain worsened. Heather had to give up a scholarship, quit college, quit work, stop all sports (of which they did many), stop driving, and stop living an independent life. Their life essentially came to a stop. Over the next several years, the pain travelled throughout their body. Heather rarely left the house unless for medical appointments. This was a very scary and isolating experience. The systems set up to support people like Heather, the medical system and provincial disability, are complex, hard to navigate, intimidating, and overwhelming.
Heather was experiencing life with an invisible disability and people's prejudices and bias'. Most people are uneducated about disability but not aware of that fact. People believe they can see whether someone is disabled or not. Heather faced a lot of skepticism and doubt by people who felt that because they didn't "look disabled", they weren't. Heather was unsure what was happening with their body and the external voices became overwhelming. Relationships ended because Heather prioritized their mental health and belief in what they were feeling.
Even supports created to assist people like Heather were denied by gatekeepers, people who could deny access to supports and services. On public transit, people were physically, verbally, and emotionally abusive when Heather used the courtesy seating. People assumed Heather was just a disrespectful teenager. It was quite difficult for Heather to stay seated when they say someone in need but it was dangerous for them to stand. When they tried to use the accessible parking spaces, people yelled at them and accused them of stealing their grandparents decal. All of this led to Heather not wanting to leave the house. It was an abrupt turnaround to be a teenager who worked hard to graduate and begin their independent life to being someone who rarely left the house and didn't know what their body was doing or if they ever would.
Diagnosis
For five years, Heather was getting nowhere with the many doctors and specialists they were seeing. They requested copies of all of their medical files. These files were extensive as Heather was regularly injured, torn ligaments, shattered bones, and multiple other injuries. In their medical records, Heather found a notation from when they were 12 saying they had Hypermobility Syndrome. Heather had been in the ER for a different reason so the notation had never been followed up on. This would not be the first or last time Heather experienced needing to be their own advocate, doing their own research, and doing their own work to find answers that the medical system was not supplying them.
With this new information, Heather was able to get confirmation that they had a Connective Tissue Disorder. Heather's collagen, the protein in ligaments, tendons, and other support structures of the body, was not properly formed, leading to joint instability. Aware that their body moved differently from others, as Heather could do contortion tricks from an early age, they never thought that it might be harmful (their mum, however, had warned them). Heather also found out that they had five types of arthritis' brought on by a combination of their Connective Tissue Disorder, a year of extreme stress, and their (previous) very active, sporty lifestyle.
Fortunate brought Heather a great rheumatologist who finally looked at their whole body and not just one specific part. Heather started to use medications and braces to assist with the ongoing chronic pain. Heather spent several years labouriously learning how to retrain their joints to stop where they should. By this time Heather was using a power wheelchair which afforded them great freedom. However, this also introduced them to life with a visible disability and one that was dependent on accessibility.
It was very difficult to find people who understood what it was to live with a visible disability. Especially when the world seemed constantly amazed you wanted, needed and expected accessibility. Heather was also one of only a handful of people in Maple Ridge who used a mobility aid. They adjusted to feeling isolated while also highly visible. Heather was instantly recognizable because they used a mobility aid. Unfortunately, people did not know how to interact with Heather or see them as the same person they were prior to being in a wheelchair.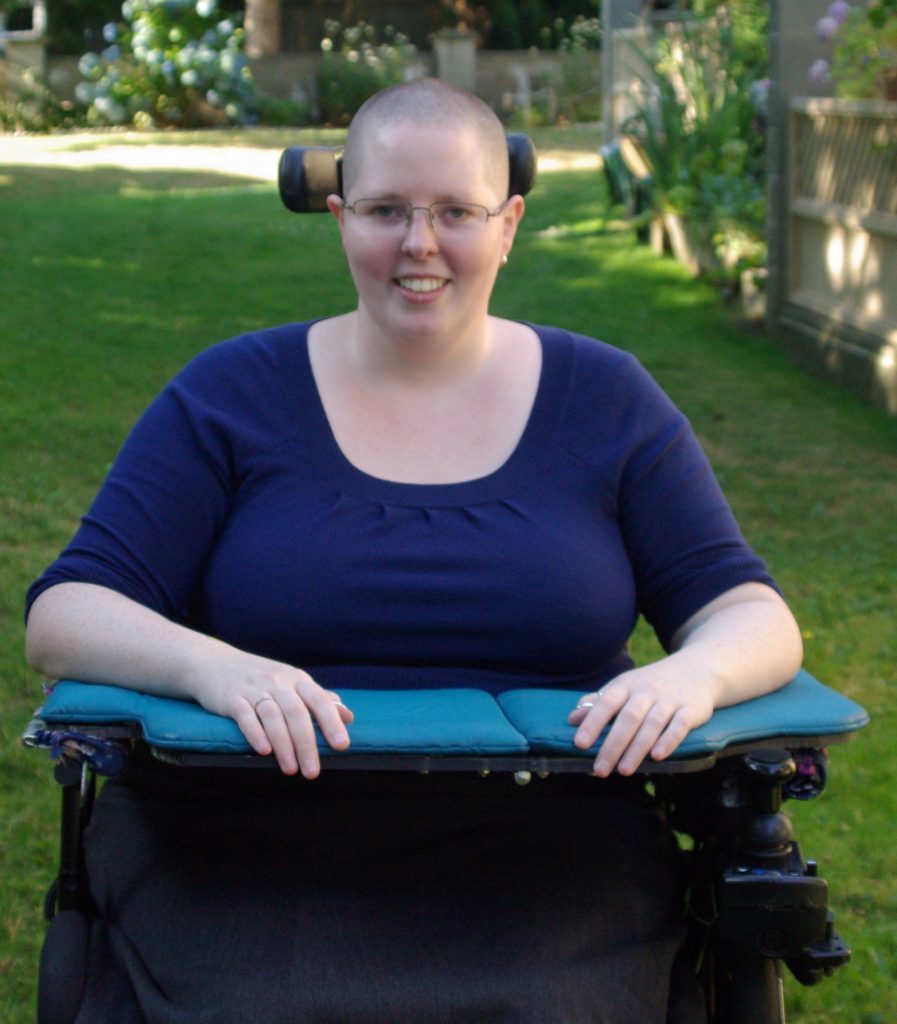 Adjusting
Adjusting to life with a wheelchair, which was both freeing and restricting, was difficult. Heather tried to do their own research into chronic pain, disability, and living with medical issues but found very little information. At the time, the Fraser Valley Regional Library system only had one book about chronic pain. The books said that all people with chronic pain were faking to get attention, that they had psychological issues and were not getting enough attention from their family or bored. That was the only book in Heather's life that they never returned to library.
Heather was appalled by the misinformation. Heather was (is) fortunate to have a supportive family who trusted what they said and did everything they could to help Heather figure out their medical issues. Heather became concerned for those who did not have that support and love, those who felt as isolated as they did but without the belief that Heather's family afforded them.
Heather was also struggling adjusting from being a Type A personality always on the move and doing things that challenged them to not being able to leave the house for days or weeks at a time. Chronic pain completely turned their life upside down. Heather thought that life could be made easier by sharing their story and getting support from people with similar experiences. They also hoped to support others who didn't have the family support they were fortunate to have. Heather sought out support but discovered there were no such support in Maple Ridge (where they lived at the time). Heather tried going to other cities to try support groups but they were all disease specific and the few Heather tried were terrifying. It was a competition in suffering, there was no humour or light or hope.
Developing Support
Knowing the experience was isolating, scary, and filled with negatives, Heather also knew that that it wasn't healthy to only focus on that. They decided to start a Chronic Pain Support Group with a different tone. Local newspapers did articles about the group. Heather was convinced that no one would show up. Their introversion had them terrified to facilitate a group. The first meeting had 40 people. Heather was shocked! This reinforced how much of a need for support there was.
Heather organized the meetings, the group's newsletter, acted as the main speaker, and counseled many of the members. It was through leading this group, and having accessibility issues personally, that Heather saw the need to advocate for accessibility throughout the community. Heather also recognized the need to encourage those with disabilities to use their voice, experience, and knowledge as a tool to assist others in similar situations.
Heather's support group had a regular attendance of 30 people. It was a unique support group, it was not disease specific, it did not require a diagnosis, and it had equal amounts of men and women. People were drawn to the group because of the humour. Serious issues were discussed but there was also joy, strength, and black humour. Everyone in that room understood one another's experiences. Maybe not the specific details but the overall themes, including, most importantly, how other's did not understand (and not believe) what they were experiencing.
CAN's Creation
During this time, Heather was experiencing difficulties with gatekeepers on the transit system. Gatekeepers are people who are able to approve or deny access to others, in this case bus drivers. Heather repeatedly experienced bus drivers who would lie and say the ramp was not operating. They did not want to take the time to put the ramp down. Heather tried writing letters to TransLink, as an individual, but did not get anywhere. Heather recognized the need to encourage those with disabilities to use their voices, lived experiences, and expertise as tools to assist others in similar situations. In 2005, they founded Citizens for Accessible Neighbourhoods (the name changed to Creating Accessible Neighbourhoods in 2020). CAN's first project was the bus ramp issue, which they were able to solve. People heard of CAN's success and came for help with their own experiences with inaccessibility and ableism.
In addition to starting CAN and writing the monthly column Heather became involved with adaptive sports. Heather won the gold medal in Boccia at the 2007 BC Disability Games. They won the silver medal at the 2008 Provincial Games. They also founded, organized, coached, and procured funding for a Power Soccer team in Maple Ridge. Heather heard from people who wanted to know about adaptive sport programs but didn't know where to start. For many people with acquired disabilities, like Heather, it is hard to know where to go for information. To help support, educate about, and promote adaptive sports Heather created an Adaptive Sports and Recreation Database for BC.
Access to Information
A goal of CAN was to improve access to information. Heather had met Doug Cook, a website developer, when coaching power soccer (he was the father of one of the athletes). Doug runs DigiCom WebDesign and has been involved with CAN since its inception. We are very fortunate to have him as part of our organization. Soon, CAN became well-known for their website which is a resource used by people across North America. CAN was contacted by contractors across North America, asking for details regarding accessibility. They were contacted by people seeking information about adaptive sports and about the medical system. People contacted them who just wanted to talk with someone who would tell them that they were not imagining all that was going with their life.
Locally, Heather began to deliver disability awareness seminars and create and perform accessibility audits. CAN recognized that many people did not have access to information about people with disabilities until they became disabled. It was vital, to Heather, that more people learned about life with a disability and how accessibility was important to all communities. During this time, Heather was fortunate to meet mentors that would increase their access to opportunities and teach them skills that they use to this day. Two of Heather's most impactful mentors were Emese Szucs from the Social Planning and Research Council of BC (SPARC) and Jane Samletzki from BC Disability Sports.
Heather realized that the public perception of "disability" was not a true reflection of the people they met who lived with disability on a daily basis. Heather, a writer from a young age, walked in a local Maple Ridge-Pitt Meadows Times newspaper office and suggested to the editor that they become a monthly contributor. Heather's popular monthly column "Abilities" ran for five years. Each month Heather interviewed a person with a disability or health issue, visible or invisible. The response to this column was overwhelming as health issues are often kept in the dark and not openly discussed. This column gave people permission to share their true selves and their true stories. It was a powerful example of how important storytelling is to understanding.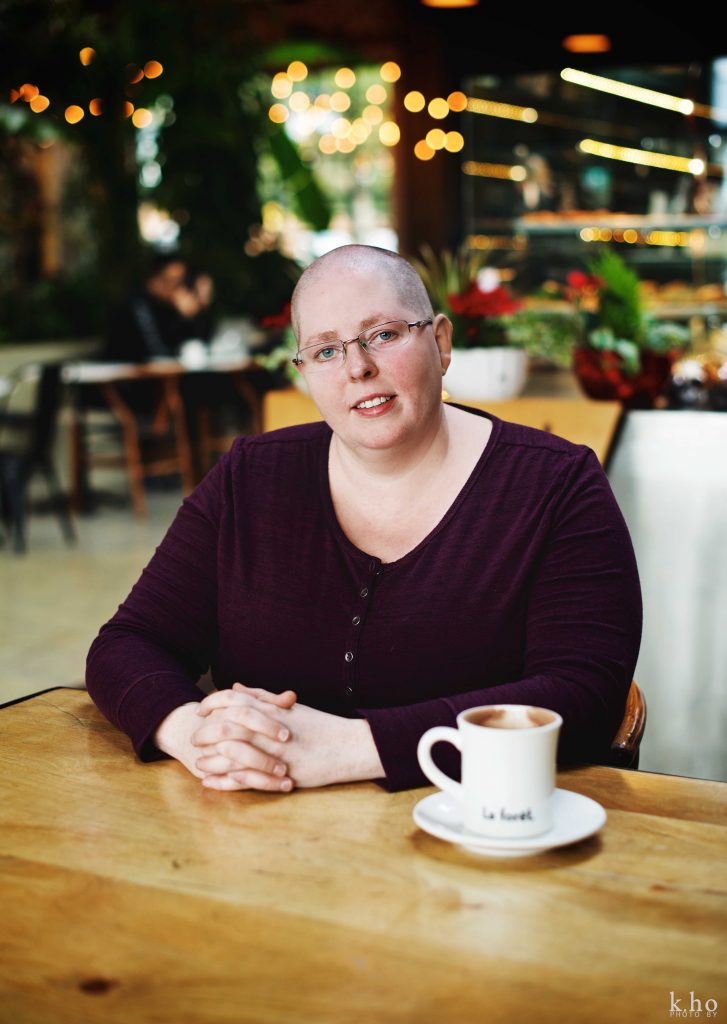 Transportation
CAN was founded because of transportation issues and it remains a priority. Transportation is vital to people with disabilities. Without access to transit, many cannot get to everything that facilitates their life: medical appointments, therapies, medication, community, volunteering, work, services etc. This was particularly true in Maple Ridge (where Heather lived at the time) which had limited transit options. In 2007, TransLink started an Access Transit Users' Advisory Committee. It was comprised of 18 individuals who use transit regularly and have a disability or are a senior. Heather was invited to join the committee. From its inception to 2010 they were the Vice-Chair, in 2011 they became Chair.
This committee introduced Heather to many other advocates, increasing their networking skills and knowledge about other types of disabilities. It was also in this committee that Heather met two other mentors: Peter Hill and Julie Rogal (now Potter). Both TransLink employees were sincere in their wanting to improve transit services for all. What Heather most appreciated was their humility. Both were vocal about what they did know and what they did not. This is rare as most do not like to admit where their knowledge is limited. They also saw those on the committee as experts and valued their input.
Often large corporations have committees or seek feedback as a practice that is a box to tick but not true engagement. Peter and Julie worked hard to ensure the voices of the committee were heard. It is people like these that keeps Heather's hope alive amidst a lot of consultation that goes nowhere. Since leaving the committee in 2012, Heather continues to consult for TransLink on projects.
Heather has also worked on projects across all modes of transportation. This includes writing disability awareness content for the Justice Institute's taxi driver training program, RideHailing, and black car services. Heather has also traveled throughout the province to speak about accessibility and disability awareness issues in transit systems. Heather is currently working with #AllOnBoard to make all transit systems in BC more equitable and accessible. This project included Heather speaking to city councils, media, MLAs, planning events, and engaging with others on these issues.
Growth and Awards
Heather started CAN in 2005 as a small grassroots organization in the two communities of Maple Ridge-Pitt Meadows. When they started, they had no experience in this field. They had graduated school then learned and developed skills out of necessity as they dealt with their medical issues and a medical system that forces one to become an advocate. Heather has built CAN into an organization with projects throughout the province. Heather's success, and that of CAN, is due, in part, to their networking skills and ability to work well with other companies and non-profit organizations. CAN's success is also very much due to our members and everyone who has helped on projects, offered opportunities, taken the workshops, seen CAN's potential, and raised the organization's profile.
For their work with Citizens for Accessible Neighbourhoods Heather has been awarded multiple awards: BC Paraplegic Association Leadership Award, Sport BC President's Award for BC Disability Games Society, and Vancouver Access and Inclusion Award. In 2010, Heather's commitment and work regarding adaptive sports led to their being chosen as a Paralympic torch bearer. In 2012 Heather was a participant of the 2012 Governor General's Canadian Leadership Conference. This conference brings together emerging leaders from across Canada to broaden their perspectives. Heather remains with the GGCLC as alumni, interviewing and suggesting potential participants, organizing the BC tour, and participating in alumni get-togethers.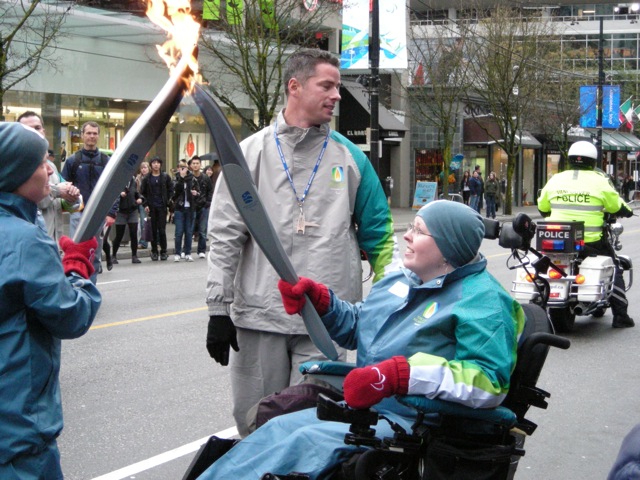 Mayor Gregor Robertson, when presenting the Vancouver Access and Inclusion Award to Heather said the following: "Heather's achievements in community service around increasing access and inclusion for persons with disabilities have been significant. Their contributions, most particularly in the areas of accessible transit and promoting universal design, will impact the citizens of Vancouver and of the entire Metro Vancouver region for many years to come. Heather demonstrates steadfast commitment and leadership to improve access and inclusion for the entire community of persons with disabilities, and is a worthy recipient for the Access & Inclusion Awards."
Disability Justice
As Heather worked on a broader range of projects, they recognized that people with disabilities have many intersecting identities. Heather, themself, is disabled, trans, and queer. Committed to cross-movement organizing, Heather works hard to ensure that the entire disabled person is considered. Their work is informed by a multitude of voices and experiences. Applying a Disability Justice framework to their work, Heather recognizes and acknowledges the intersecting legacies of colonialism, capitalism, white supremacy, gendered oppression, audism, and ableism, and how those legacies have led to exclusion, isolation, and oppression of disabled people. Heather works to challenge ways of thinking and fundamentally shift the way we organize and fight for social change.
Centering decolonialization and taking an intersectional approach was a positive move for CAN. It was also beneficial to Heather, who is endlessly interested in people, stories, and learning. It is important to Heather that as they educate, they also find opportunities to be educated by others. As an advocate, it is vital to Heather that they grow, evolve, and continue to learn about people's experiences with the many systems that oppress us. Heather has learned a lot from educators like Cicely Blain from Cicely Blain Consulting and Vivian Ly from Autistics United Vancouver.
Crip Doula
While Heather has many titles, they are most proud of being a Crip Doula, a Disability Justice term for someone who helps disabled people navigate our complex systems while providing resources, support, and building community. Heather was given this title by members of Chronically Queer, a support group they run for LGBTQ2SIA+ folk with chronic health conditions. Heather has expanded this group from one meeting in Vancouver per month to monthly meetings in Vancouver, Burnaby, and online.
It is important to Heather that they help mentor others to advocate, be activists, and speak to their experiences. Heather helps train emerging disability advocates. A priority of 2020 is to utilize Heather's access to create opportunities for others. Heather has worked hard to get to where they are and are excited to be able to use their expertise, experience, and connections to help the next generation of advocates and activists.
Finding a Balance
Heather still struggles to find the balance that is necessary for someone who lives with chronic pain. It is frustrating to balance their desire to take on projects with caring for their own needs and their physical limitations. It is hard to have so much mental energy and ideas but limited physical energy and ability. After twelve years in the wheelchair, Heather transitioned to using a custom walker made by volunteers from the organization Tetra.
Heather's most limiting medical issue is the arthritis in their collarbones and hands. Any repetitive motion creates pain. If their arms are down for too long (more than about 10-15 minutes) they can lose the use of their arms. As Heather loves to travel, they designed a double sling to wear to be able to go on hikes. Excitingly, the sling enabled Heather to access parts of nature that had been out of reach for years. Accessing nature has always been vital to Heather's mental health and this sling opened the world for them. It also demonstrated that people with disabilities often have to create their own adaptive equipment.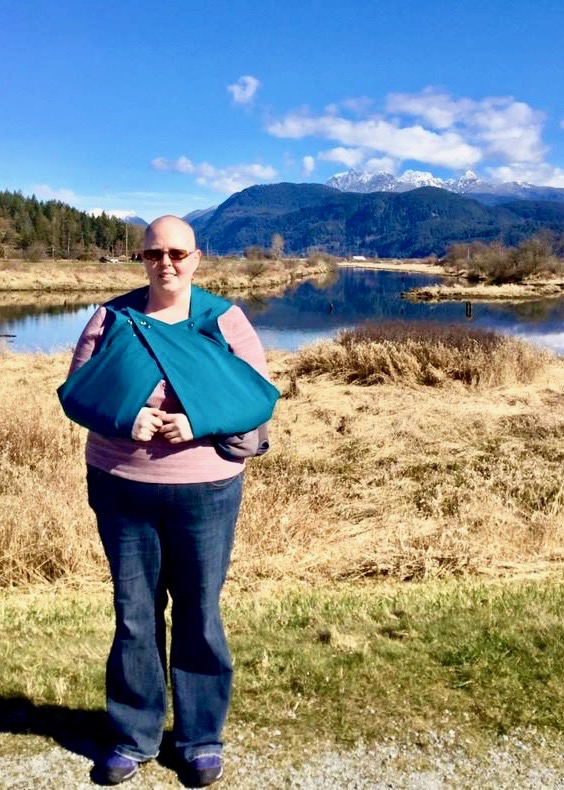 Travel and Nature
Heather is a nature enthusiast and hobby photographer who is constantly amazed by the beauty of our diverse province. They have had the great fortune to travel throughout the majority of BC. Heather was two pay cheques away from buying a truck and doing a long trip across BC when their health issues started. Unfortunately, they then had to use those savings to live on until they could get approved for provincial disability.
Heather made a commitment to achieve three goals: visit all towns, cities, municipalities, and villages in BC, drive all major and secondary highways, and visit all vehicle accessible islands. Heather achieved their goal. It took 21 years, 17 years during which they couldn't drive, but they achieved their goal in 2017. Happily, our province has an endless supply of logging roads for them to discover, so their explorations of our province will never be complete.
Change
In 2018, Heather had a medical emergency that led to PTSD (post traumatic stress disorder) and a new type of neurodivergence. It has been quite the adjustment. Heather continues to apply their skills and expertise where they can. Even as they try to navigate their brain's new way of thinking, they utilize it as an opportunity to have a deeper understanding of disability.
Big Changes in 2020
In 2020, Heather had to pivot to doing online workshops, the majority of them were private. CAN had the most requests for academic ableism workshops. We delivered them at UBC (University of British Columbia), SFU (Simon Fraser University), and BCIT (British Columbia Institute of Technology). In January of 2021, we are working with Adler University.
Moving Forward in 2023
2022 was an amazing year of growth. In 2023, CAN will be rebuilding our website, hiring new staff, and continuing to work on a vast array of projects.
When Heather started CAN in 2005, they could have never guessed the opportunities, adventures, and people it would bring into their life. They look forward to seeing what the future brings.
Click here to read testimonials about the work Heather and CAN does.
Photo credit: 3/5 photos (not including photo of Heather in wheelchair or with slings) were taken by: Photos by K. Hof